---
[RICH_REVIEWS_SNIPPET category="Relating to Setting up Fusion… Book"]
---

---
About the Book
A Unique Book on Setting up Oracle Fusion Financials and Fusion Tools. The Book is written on Fusion Release 9 Instance and It comes with Fusion Financials Cloud Release 12 Update.
Self Paced Learning Guide
Covers Fundamentals
Best suited for EBS R12 Consultants seeking immediate knowledge transition to Fusion Financials
(Step by Step Guide to Fusion Setups and Transaction Flows with Actually executed examples and abundant Fusion Snaps)
Summary
Fusion General Ledger Fundamentals
Fusion Payables Fundamentals
Fusion Receivables Fundamentals
Fusion Assets Fundamentals
Fusion Cash Management Fundamentals
Fusion Hyperion Reporting Studio Fundamentals
Fusion Hyperion Smartview Fundamentals
Fusion FBDI – File Based Data Import – Fundamentals
Fusion OTBI – Oracle Transactional Business Intelligence – Fundamentals
Fusion ADF-DI – Application Developer Foundation – Desktop Integrator – Fundamentals
DataSheet / Price Lists
Pricelist for All Products, Delivery Timeframes, Links to Specifications/Videos/Sample Pages/Buying etc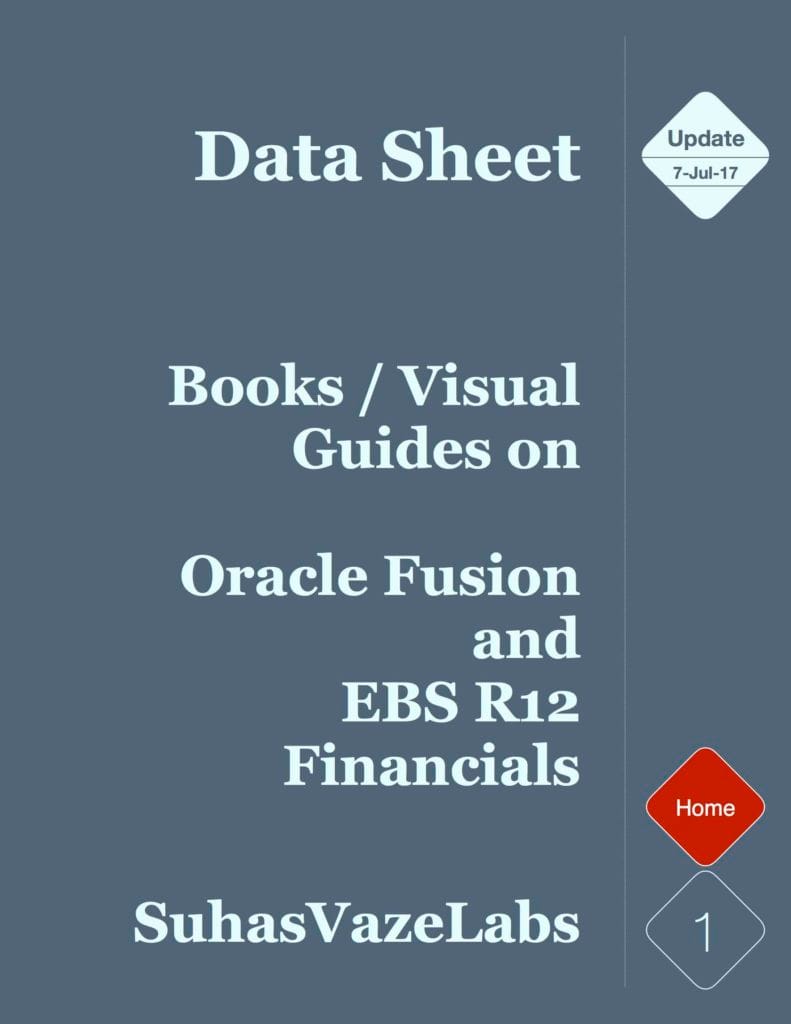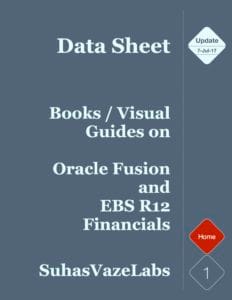 Brochure
List of Chapters, Topics and Related Information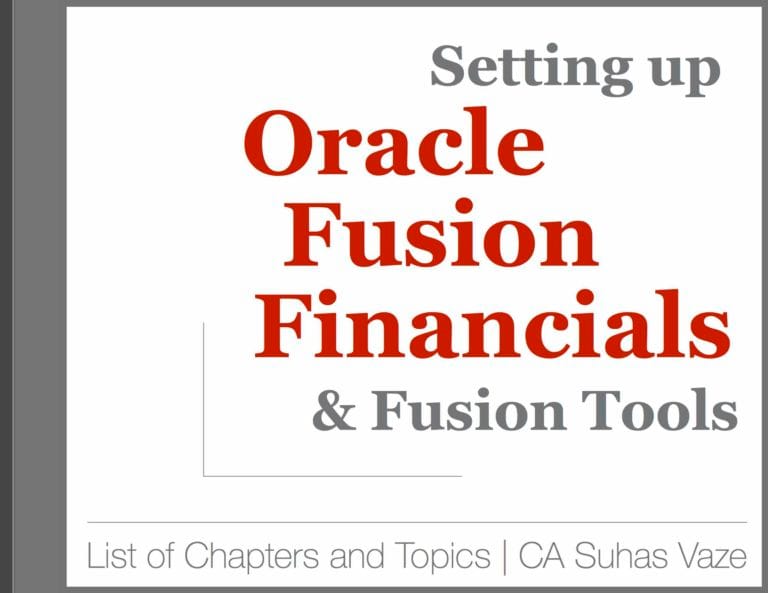 Watch Video
Introduction to the Book
Sample Pages
View Sample Pages from the Book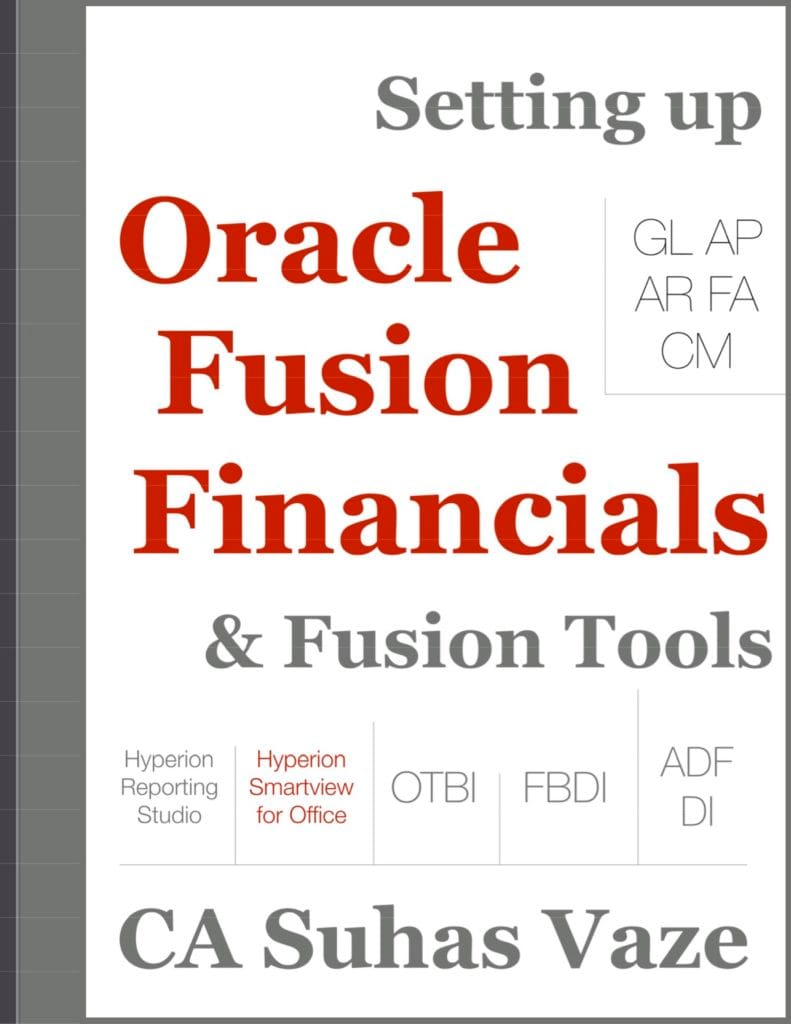 Buy on Flipkart (India only)
Click the Link below to buy on Flipkart
(For Purchases in India Only)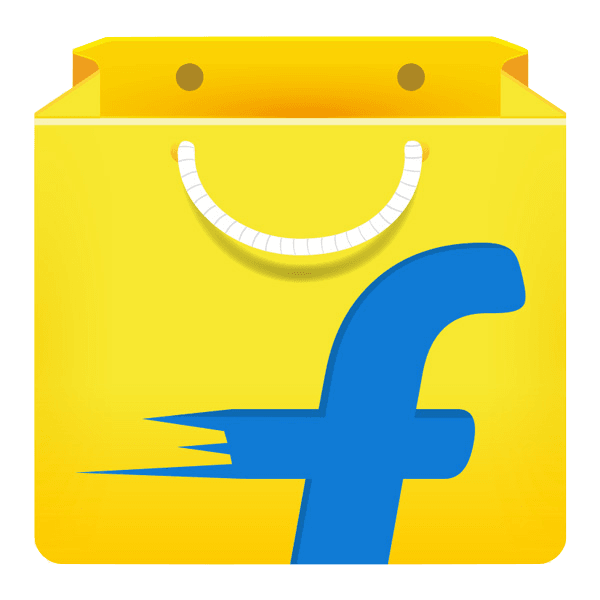 Buy Directly from us (India and International)
Go to Shopping Page, Add Products to Cart and Perform Checkout.
Can be delivered in India within 2/3 Working Days and Worldwide within approx 3/4 Working Days after Clear Payment
---
List of Chapters and Topics
Navigator
Navigator & Menu Items
Implementation Project
Logging into Fusion
Configure Offerings
Creating Implementation Project
Selecting Offerings
Accessing Task List
Performing Tasks
Accessing Navigator Menus
… More about Impl. Project
---
Fusion General Ledger Topics
Creating Legal Entity
Creating an Address
Creating a Legal Entity
Registering a Legal Entity
Chart of Accounts
Creating COA Value Sets
Defining COA Structure
Defining COA Structure Instances
Deploying Flexfield
Defining COA Values
Defining Calendar
Generate Calendar
Defining Ledgers
Defining Primary Ledgers
Assigning Legal Entities
Setting up Ledger Options
GL Roles
Generating Roles
GL Roles in Entitlements Server
GL Roles in Identity Manager
Assigning Roles
…More GL Setups
GL Setup Validation
Open First Period
Enter and Post Journals
---
Fusion Payables Topics
Creating Business Units
Creating Business Units
Business Unit Functions
Business Unit Reference Data Sets
Banks Branches & A/cs
Creating Bank
Creating Branches
Creating Bank Accounts
Payables Settings
Payables and Procurement Options
Payables Settings
Payables & Procurement Options
Setting up Invoice Options
Setting up Payment Options
Payment Methods
Payment Terms
Payment Documents
Payment Process Profiles
Distribution Sets
…More Payables Setups
Procurement Agents
Employee, User & Proc. Agent
Roles for Procurement Agents
Procurement Agents & Suppliers
AP Roles
Generating Roles
AP Roles in Entitlements Server
AP Roles in Identity Manager
Assigning Roles
Suppliers
Creating Suppliers
Entering Supplier Addresses
Creating Supplier Sites
Supplier Site Assignments
Payables Invoices
Entering AP Invoices
Invoice Validation
Invoice Accounting
Payments
Pre-requisites
Creating Payment
Payment Accounting
---
Fusion Receivables Topics
Creating Business Units
Creating Business Units
Business Unit Functions
Business Unit Reference Data Sets
Receivables Setups
Receivables System Options
Receivables Activities
Auto-Accounting
Transaction Types
Transaction Sources
Remit to Addresses
Receivables Setups…
Banks, Branches, Bank Accounts
Receipt Classes & Receipt Methods
Receipt Sources
…More AR Setups
AR Roles
Generating Roles
AR Roles in Entitlements Server
AR Roles in Identity Manager
Assigning Roles
Customers
Pre-requisties
Creating a Customer
Creating Address
Creating Address Purpose
Sites & Reference Accounts
AR Invoices
Opening First Period
Creating Invoice
Completing Invoice
Invoice Accounting
---
Fusion Assets Topics
Asset Key Flexfields
Asset Category Flexfield
Asset Key Flexfield
Asset Location Flexfield
Setting up Flexfields
Creating Assets Value Sets
Creating Flexfield Structures
Creating Flexfield Structure Instances
Deploying Flexfields
Assets Setups
System Controls
Fiscal Years
Calendars
Pro-rate Conventions
Depreciation Methods
Asset Books
Category Combinations
Key Combinations
Location Combinations
…More Asset Setups
Assets Roles
Generating Roles
FA Roles in Entitlements Server
FA Roles in Identity Manager
Assigning Roles
Assets Setup Validation
Open First Period
Add an Asset
Calculate Depreciation
Asset Accounting
---
Fusion Cash Management Topics
Cash Management
Cash Management Setups
Banks, Branches & Bank Accounts
Creating Bank Transaction Codes
Entering Bank Statements
Entering Bank Statement Lines
Entering Receipts and Payments
…More CM Setups
Manual Reconciliation
Match Receipts
Match Payments
Auto Reconciliation
Enter Bank Statements, Lines
Enter Receipts, Payments
Setup Matching Rules
Run Auto Reconciliation
Validate Unreconciled Items
Reference Data Sets
Concept
Sharing/Partitioning Data
Creating Reference Data Sets
Assigning Ref. Data Sets
Data Elements & Ref. data Sets
---
Fusion FBDI Topics
File Based Data Import
OER – Oracle Enterprise Repository
UCM – Universal Content Manager
Downloading Template
Entering Data in Template
Generating CSV and ZIP files
Uploading Data to UCM
Upload UCM Data to Interface Table
Importing Data
One example demo end-to-end
---
Fusion Hyperion Smartview Topics
Hyperion Smartview
Setting up Browser
Downloading Smartview
Installing Smartview
Configuring Smartview
Configuring MS Excel
Logging into Smartview
Smartview Reports/Analysis
Point of View
Excel View
Drag Drop Methods
Ad hoc Reporting
Example
One example demo end-to-end
---
Fusion Hyperion Reporting Studio Topics
Hyp. Reporting Studio
Setting up Browser
Downloading HFRS
Installing HFRS
Configuring HFRS
Logging into HFRS
HFRS Reports/Analysis
Creating Database Connection
Dimensions Layout
Point of View
HFRS Reports/Analysis
Setting up Dimension Layout
Setting up Grid Object Values
Setting up POV Object Values
Preview Report
Publish report
One example demo end-to-end
---
Fusion OTBI Topics
Oracle Transaction Business Intelligence
Oracle Transactions BI
Report Catalogues
Browsing Catalogues
Shared Folders
Subject Areas
OTBI Reports/Analysis
Selecting Subject Area
Selecting Report Columns
Report Layout
Report Filters
Report Prompts
Preview and Publish Reports
OTBI Reports/Analysis
Preview and Publish Reports
One example demo end-to-end
---
Fusion ADF-DI Topics
Application Development Framework – Desktop Integrator
ADF Desktop Interator
Download Integrator
Install ADF-DI
Configure MS Excel
ADF-DI Uploads
Download Spreadsheet Template
(E.g. Journals, AP Invoices, AR Invoices, Asset Addition etc)
Enter data in Template
Validate Data
Upload Data
ADF-DI Upload Journals
Download Journals Template
Enter Journal Lines in Excel
Submit Upload from Excel
Verify Uploaded Journal in Fusion
One example demo end-to-end
---
Write a Review (Setting up Fusion)
[RICH_REVIEWS_FORM category="Relating to Setting up Fusion… Book" ]
---
Reviews and Ratings (Setting up Fusion)
[RICH_REVIEWS_SNIPPET category="Relating to Setting up Fusion… Book"]
[RICH_REVIEWS_SHOW category="Relating to Setting up Fusion… Book" num="all"]
---