How to Register for Online Trainings?
1. Click on following Link to Open the Registration Page (Product):
https://oracleerpguide.com/product/fusion-online-training/
2. Click "Add to Cart" then Click "View Cart"
3. Click Proceed to Checkout – Enter Your Information (Name, Address, Phone Number etc) and Checkout.
You will get a confirmation mail.
Alternatively,
Click here to Go to Shopping Page. You can select Products relating to "Registration of Online Training", Add to Cart and Perform a Checkout. Both Domestic (Indian) and International Customers can Register for Online Trainings on the Shopping Page.
How to Place Order for Sub Sets? e.g. Only Fusion General Ledger Set etc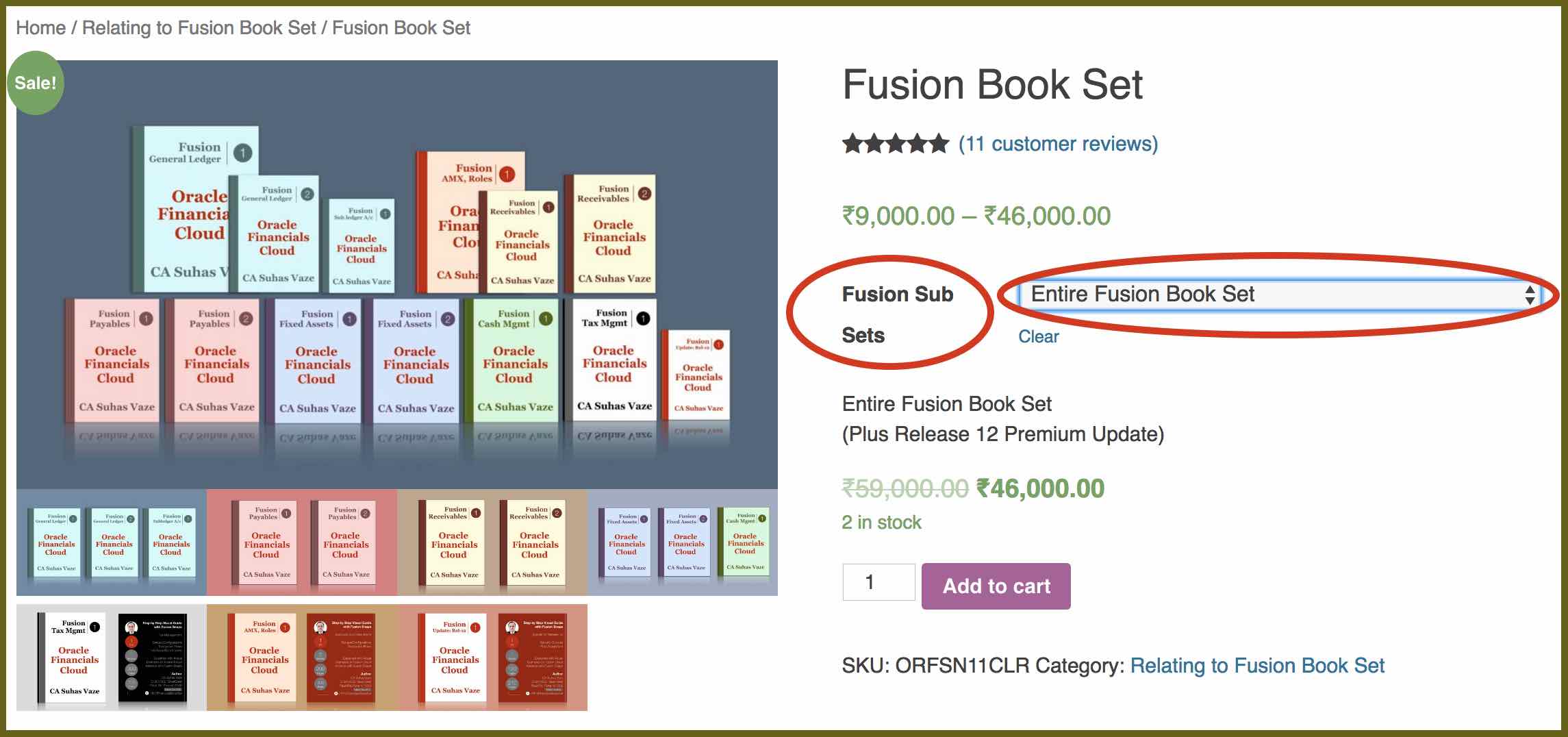 Click on a Sub Set as shown above.
Select a Sub Set (as above). E.g. General Ledger Set, Accounts Payable Set etc. The Price, Photos and Related Information (Scroll Down) will change after Selection.
Then Add to Cart and Perform Checkout.
Do you ship International/Overseas and to P.O. boxes?
Yes, we'll ship your package anywhere that can accept deliveries.
What are the Shipping Costs and Delivery Timeframes?
Click here to Go to Shopping Page. Once you have Added Products in your Cart, Go to "View Cart". Click on "Calculate Shipping". Enter your Country and click "Update Totals". The Shipping will be calculated as per your country of delivery and Products Selected. Free Shipping within India.
Shipping Timeframes
Generally within 1 Business Day of Clear Payment
Delivery Timeframes
Approx 2/3 Working Days in India after Shipment
Approx 3/4 Working Days in USA and Rest of the World after Shipment
Are there any Recorded Videos for Sale?
No. We are unable to provide recorded videos due to Security Reasons. Many Free Videos are published for free education to viewers, students and customers.
What is the difference between Fusion Book Set (15 Books) and Setting up Fusion Financials (One Single Book)?
The Fusion Book Set is a Comprehensive Book Set giving Detailed Functionalities (in addition to Fundamentals) in each module of Financials GL, AP, AR, FA, Cash etc. E.g. In General Ledger, apart from basic setups (COA, Legal Entity, Ledgers), It also covers Secondary Ledgers, Mass Allocation, Budgeting, Revaluation, Translation, Consolidation, Intra Company, Advanced Global Intercompany and many more features like these.
The single book "Setting up Oracle Fusion Financials…" gives Hands On Knowledge about Fundamentals of Fusion Financials. This book is designed so that EBS consultants get a fastrack for Knowledge Transition to Fusion. It covers base Setups of GL/AP/AR/FA/Cash with one Sample Transaction execution of each type (E.g. Journal, Payables Invoice, Receivables Invoice, Payment, Receipts and related accounting of these transactions). It also gives Fundamental coverage to FBDI, OTBI, Hyperion Reporting Studio, Hyperion SmartView and ADF Desktop Integrator (With one sample Report/Analysis/Upload in each one). If you are concerned about the Price of the entire Book Set, you can go for this book first and then think of buying the entire Book Set.
Can we use Credit Card / Debit Card for Purchases?
Payments on INDIAN Credit/Debit Cards are accepted. You can make payments through INDIAN Debit/Credit Cards using the Option to Pay Through Debit/Credit Card.
INTERNATIONAL Dr/Cr Cards are NOT accepted. International customers should make payment by PayPal or Bank Transfer.
If you have chosen "Bank Transfer" Payment Method,
You can use services like XOOM.COM or REMITLY.COM to use debit/credit cards for Bank Transfers relating to the Purchases.
You may also use PAY.PAYUMONEY.COM (ONLY INDIAN Cards), Search Merchant ID 5850671 (verify Search Result gives you name SUHAS DATTATRAYA VAZE) and Make Payment through Debit/Credit Card or Net Banking or UPI
What is the Warranty on Books?
With the purchase of any Book / Book Set, you get 3 Months Doubt Clarification on any Chapters / Topics covered in the Books. 
Simply write a mail to support@oracleerpguide.com.
Do you provide Soft Copies?
No. We are unable to distribute Soft Copies (PDFs etc) due to Security Reasons. Only PRINTED BOOKS are sold.
Do you provide access to Fusion Instances?
EBS R12 Books are written on which Version?
EBS R12 Books are written on R12.1.3 Version and Updated upto R12.2.4 Version.
Fusion Books are written on which Release?
Fusion Book Set is written on Fusion Financials Cloud Release 11 Instance and It comes with Fusion Financials Cloud Release 12 Update.
The Book Title "Setting up Oracle Fusion Financials and Fusion Tools" is written on Fusion Release 13 Instance.
Will I be able to setup EBS Financials or Fusion Financials using these Books?
Yes. Certainly! The Books give step by step Setups and Transaction Flows (With Snap of each step) of Actually Executed Examples on the Instance.
What are the Weights and Dimensions of all Products?
For physical products such as Books / Book Sets, you can check out the weights / dimensions of each product on the respective pages. 
What Payment Methods can I use? OR My Payment has failed, what can I do?
You can also make payment using following Payment Methods:
If you have INDIAN DR/CR CARD, You can make the payment on following link – https://pmny.in/3INgzB0CFRg7
By PayPal.com You can Pay (This includes some PayPal Commission) on PayPal.com to SUHASVAZE1@YAHOO.COM

Please note you need to Pay on PayPal.com (Not PayPal.com/in)

You can also make payment via www.Xoom.com, which is a PayPal Service. Please send mail to Sales@OracleErpGuide.com for Bank Account Details.
You can also make payment via UPI to suhasvaze1@okicici