---
4.9 out of 5 stars (based on 35 reviews)
---

---
Registration and Payment
Register and Pay for Fusion Online Training
Total Fees INR 18,000/- (See Payment Schedule below)
Suitable for people who already know Oracle eBusiness Suite R12 Financials
Eligible for CPE Hours
How to Register and Pay for Training
Click "Add to Cart"
Click "View Cart"
Proceed to Checkout (Apply Coupon OFSNEBIRD for INR 1000/- discount if Paying On/Before 22-Apr-20)
---
Fusion Financials Training – Apr-2020
Transition your skills rapidly from EBS R12 to FUSION (Oracle Financials Cloud)
Fusion Financials Crash Course in 3 Weekends
4 Hours per Day  X  6 Days = 24 Hours
Release 12 and Release 13 (Oracle Fusion Cloud / Oracle Financials Cloud)
Best suited for EBS R12 Consultants seeking immediate knowledge transition to Fusion Financials
Demonstrated Fundamentals on Fusion Instance
Fusion Cloud Release 12/13 Instance given to participants for Hands On as part of course (From First Day to Last Day of Training). Additional 3 Month Access can be procured separately.
Participants can attend missed session (due to participant inability to attend any session), in subsequent batches also.
Training is Eligible for CPE Hours
(Step by Step Training to Fusion Setups and Transaction Flows with Actually executed examples on Fusion Instance)
Training Summary & All Links

Dates and Timings (USA/Canada/India/Europe Friendly)
Apr-May 2020 ( 28th Apr to 3rd May; Both Days Inclusive )
6 Days X 4 Hours Per Day = 24 Hours
Fees and Payment Schedule
Total Cost: INR 18,000/- Per Participant
Register and Pay to Reserve your Seat
Pay the Amount as per Following Schedule
INR 18,000/- On/Before 26-Apr-20 (Apply Coupon OFSNEBIRD for INR 1000/- discount if Paying On/Before 22-Apr-20)
For USD Payments on PayPal.com, Please pay USD 300/- if paying On/Before 22-Apr-20 (Else Pay USD 315/-)
---

---
Content Summary
Fusion General Ledger Fundamentals
Fusion Payables Fundamentals
Fusion Receivables Fundamentals
Fusion Assets Fundamentals
Fusion Cash Management Fundamentals
Fusion Hyperion Reporting Studio Fundamentals
Fusion Hyperion Smartview Fundamentals
Fusion FBDI – File Based Data Import – Fundamentals
Fusion OTBI – Oracle Transactional Business Intelligence – Fundamentals
Fusion ADF-DI – Application Developer Foundation – Desktop Integrator – Fundamentals
Training Batch Brochure
Download Training Batch Brochure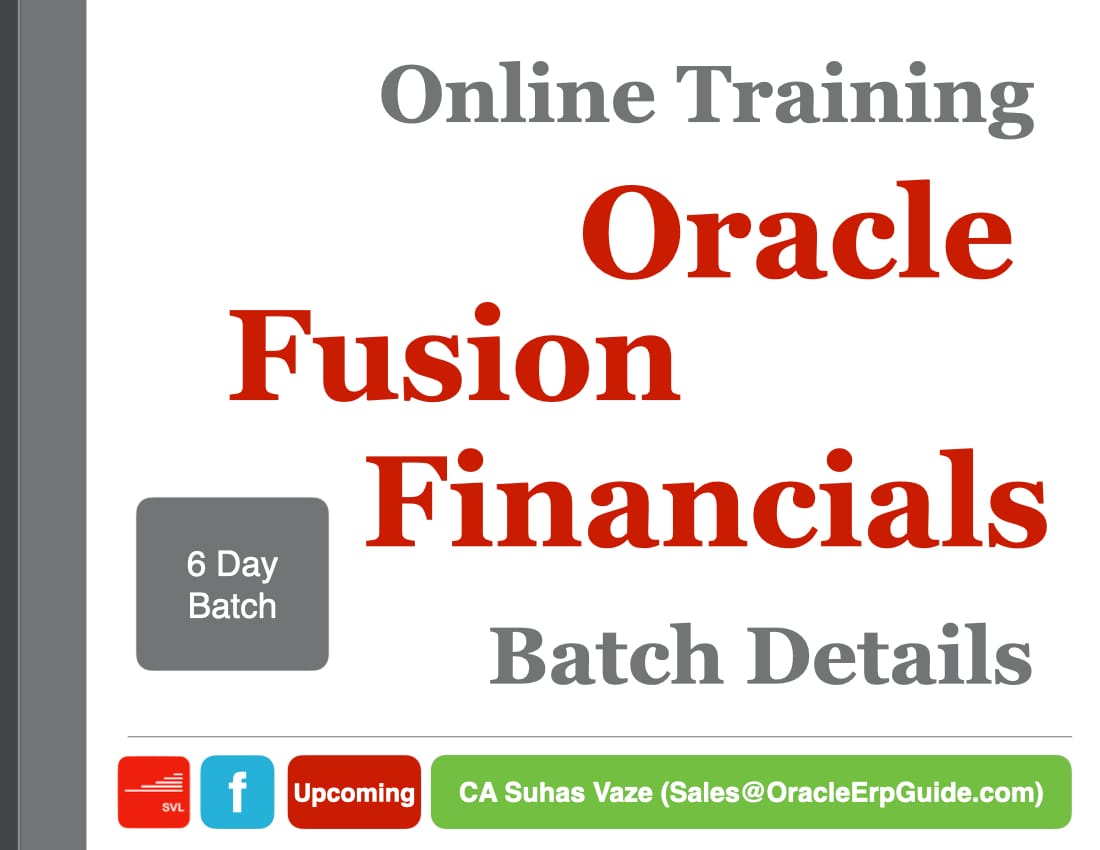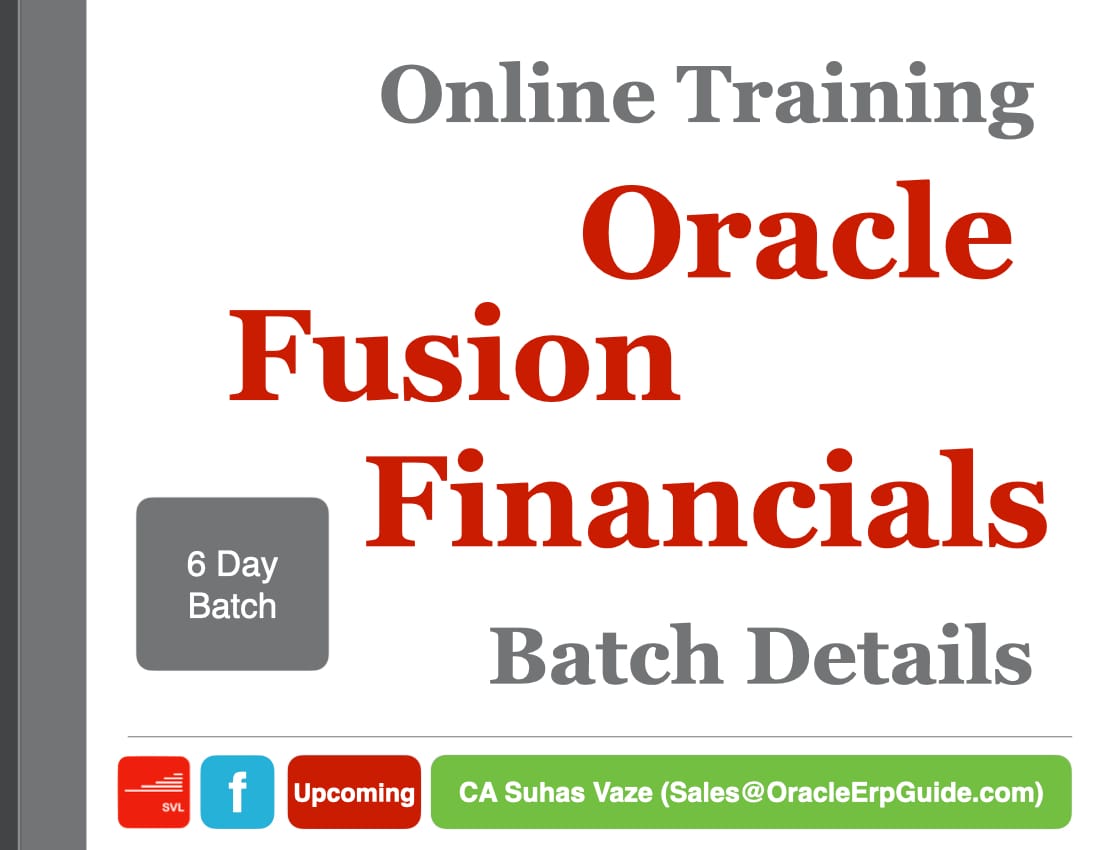 Chapters/Topics Covered in Training
Download Chapters/Topics covered in Training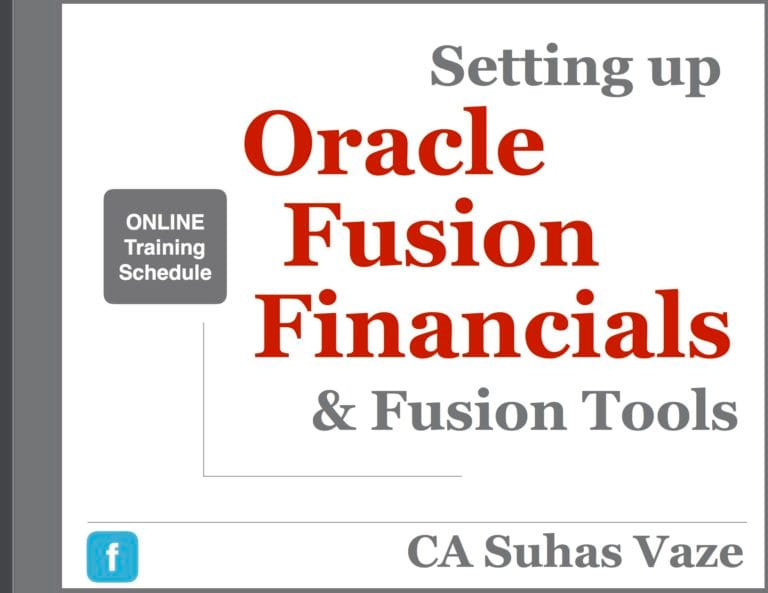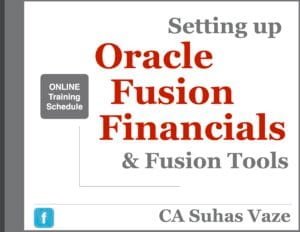 ---
---
---
Write a Review (Fusion Online Training)
(Scroll down to see existing Reviews)
---
Reviews and Ratings (Fusion Online Training)
I CAN'T BELIEVE THIS
The reason for the title of my review is base on……., for years back i have been ruining away for online training, because i always believe no institute can give me the best training needed in Oracle Cloud, until i come across OracleErpGuide, to be sincere OracleErpGuide you are the BEST…… firstly, i am in Nigeria, in West Africa.The institute choose the best convenient time for my training, secondly the trainer was good, into details and the explanation was superb, He took time to attend to all my question and gave me the best training i could ever imagine, thirdly, the support team timely response to my doubt, with this i have recommended two of my friend for the forthcoming training in September/October. i have choose your institute to be the leading among others, and i will always refer/advertise your institute here in Nigeria. I say very BIG THANK YOU. to you out there always look out for OracleErpGuide for your training, i know they will give you the BEST training in Oracle cloud. i challenge people of India and other country of the world that we should embrace this GOLD(OracleErpGuide). thanks to the leader and the Team. this review is directly from my heart and based on the quality of training received.
Exceptional Training!
Training had provided a smooth transition from EBS to Fusion Cloud Financials. The Videos presented during the sessions were very well organized with step by step instructions. I would recommend if you are looking for a transition from EBS to Fusion Cloud.
Mr Suhas answered questions that course participants had with real insight and provides an excellent,
focused and very informative training on how to get into the fusion financial modules and Tools.
Exceptional Cloud Training!!!
I have recently attended Cloud training program. It is well designed, informative and very effective for consultants like me, who have already worked on prior release of EBS. Suhas was able to point out the differences between EBS and Cloud release with respect to each financial modules. Training covered implementation steps, out of box functionality in terms of standard processes for each of finance modules, security, and reporting tools available with Cloud. Training sessions provides enough time to do hands on to get comfortable with Cloud release. I will certainly recommend this course to those individuals who have already worked on prior release of EBS and would like to get familiar with Cloud release. Suhas: Thank you for making it so unique and memorable learning experience!!
Oracle EBS to Cloud
I wouldn't call this training, it is the best career support anyone could ever get, migrating from EBS to Cloud functionality never thought that it could be done in short time, all credit to Suhas Sir for excellent well organized training sessions, get a feeling to continue to learn, to top it off, Oracle Cloud functional knowledge with the accounting examples under financials was really great to watch, glad that I chose Suhas Sir and Oracle ERP guide.com for my career enhancements. My Best Wishes to Suhas Sir and the support team.
The Best Quality of Fusion.
One of the finest portal. Customer service was awesome. Access is one the best in market. Course was designed at  market standards. Overall great experience learned a lot from this OEG.
Volatile Instance, Service and material very good
I had several issues with the instance, I had to restart so many times, had to sit for hours as the instance was slow, lot of time was wasted, but on the other hand the material provided and the service was extremely helpful. Hope you have success with better instance service from Oracle and keep up the service
Excellent Training
This is a concise and excellent training that should not be missed. I would recommend.
Excellent Training on Oracle Fusion Financials.
I'd recommend this training program for everyone who has prior experience working in Oracle EBS and in the process of switching to Oracle Fusion/Cloud.
CA Suhas - Oracle ERP Guru - Outstanding Sessions
Dont miss the opportunity- who are new to fusion, must join these sessions to build your skillset.
Your Fusion Financials Cloud journey should start here
Suhas provides an excellent, focused and very informative training on how to get into the fusion financial modules and Tools as well and get a grasp of the knowledge required to configure and start using the modules/integrations in a short period of time, Thanks
---